For SEOs, checking keyword position is a must-do every day. There are many ways to check the position of keywords manually, but with a large number of keywords is not feasible at all, why not think about automating this job?
In this article, we will sum up for you the best keyword placement software today.
Proranktracker is the most professional keyword placement tool. The free version is limited to only 20 keywords and 1 URL. The fee paid is a bit high, the lowest version is 19 USD/month and tends to increase.
For companies, professional, it will help you optimize the job a lot. For individuals just using other free tools would be more suitable.
Pros:
Can add multiple keywords via excel
Full support for languages, search servers worldwide
Can check the Maps, mobile
Show the number of keyword searches
Create reports automatically via email, pdf, excel …
There is software on Android, iOS.
Compare project effectiveness by week, month and year
Convenient keyword filter tool (filter by many criteria: search volume, URL, keyword position, searches …)
Create smart keyword groups by Filter, Group, Tags
Create sub-accounts by project, logo by the business.
Keyword suggestions, keyword analysis.
Cons:
High cost
The free version is limited to only 20 keywords and 1 URL.
2. RANKAWARE
This is exactly a software, they check slower than Web-based tools, but more stable and do not worry Google fix or change algorithms. If you need a free and powerful software, Rankaware is software worth using.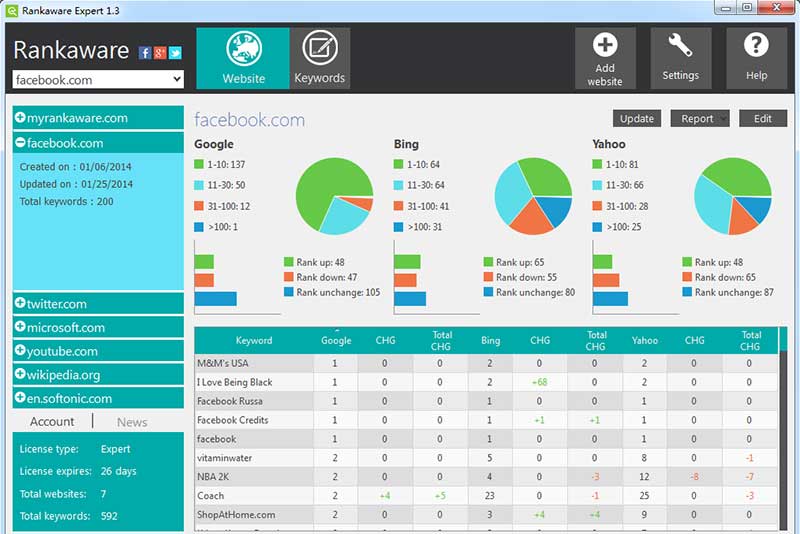 Free version for 01 website and unlimited self-locking, completely legal use. This software allows you to check up to 3 search engines or server clusters simultaneously. For example, you can check at Google.com, google.com and yahoo or bing.
Pros:
Free unlimited number of keywords.
Check multiple search engines at the same time. (with google.com)
There is a history of location from time to time
There is a statistical overview chart to capture the project.
The yearly purchase price is quite cheap 59 USD/1 year to unlock them all.
There is an automatic check schedule according to the time you install or when you open the software is auto check.
Cons:
Due to the software, the time to check your keyword list will be slow.
You should add a proxy for checking faster, if there is only 1 IP
Paid package but the limited domain is not suitable for large projects (maximum 200 keywords, 5 domains)
If you're just doing SEO, doing a small project, it's best to use this software, instead of struggling to find other cracking software. Which sometimes loads a bunch of malicious code onto the computer but also doesn't know. Using copyright like this also helps you to update and enjoy the latest gadgets or not to worry when Google updates.